Say goodbye to tacky billboards, inflatable signs, and other ineffective methods of street advertisement and meet 3M Building Wrap. 3M Building Wrap is an exciting architectural advancement that allows you to advertise your Kansas City business in a cool, creative, and modernized way. It can be used for a whole variety of purposes and it's totally affordable!
What Is 3M Building Wrap?
3M Building Wrap is a thick, durable film that's applied to the exterior of your building to enhance its outward appearance. It can be printed in with any color, text, logo, or graphic of your choice so that you can advertise your business in any way you want. 3M Building Wrap allows you to extend the reach of your advertising by making your business visible to a larger amount of customers.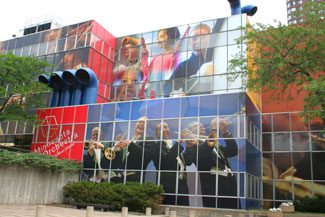 The Benefits
The benefits of 3M Building Wrap are hard to beat. Building wrap can be used for a whole range of purposes such as:
1. Exterior resurfacing: Resurface the exterior of your building and bring your business into the 21st century with building wrap! Building wrap covers up the defects in your windows and makes your business look newer and more professional.
2. Metal restoration: Building wrap can also be printed to resemble metal, stainless steel, or metal surfaces. Cover up graffiti or damage to the metal surfaces or structures belonging to your business and make your building look brand new again!
3. Event promotion: Have a special event coming up in the future? Increase attendance and grow your sales by using building wrap to promote the occasion!
4. Decoration: Give the exterior of your building an artistic feel by using building wrap as decoration. Building wrap is a great choice for museums, theaters, and many other types of entertainment businesses.
5. Street advertising: Use the height and size of your building to the advantage of your business. Building wrap turns your physical structure into a massive advertisement, allowing your business to be seen by those from miles around.
Building Wrap for Kansas City Businesses
Window Film Kansas City installs 3M Building Wrap for commercial structures in the Kansas City metropolitan area. Call now to schedule an appointment or get more information!