With residential window film, Kansas City residents can have savings on heating and cooling costs and make their premises more comfortable, year round. We sell and install residential window films from the top suppliers in the industry, and they are guaranteed to perform.
Although we have a whole line of different window film products for various uses, the main product we are referring to here is energy efficiency residential window film, Kansas City. And we think once you hear about the benefits, you might be really interested in checking it out further.
When it comes to energy saving residential window film, Kansas City homeowners are eager to hear all the details and understand how it works. After all, energy bills only go up, not usually down. And many homeowners would love to find a product that doesn't cost a fortune but could help them cut down on those bills.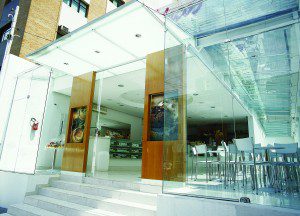 With one of our energy saving residential window films, Kansas City residents can do just that. The film is installed to the inside of the home's window panes. It will act to block heat gain from the sun all summer long and especially during those uncomfortably hot periods where the sun is actually beating down on the windows. This keeps your home cooler with less air conditioning. In fact, some clients have reported to us no longer needing their air conditioners at all, which amounts to a huge energy savings over time.
During Kansas City's cold winters, homeowners usually have their thermostat set to a comfortable temperature. Or not, if they are trying to save on heating bills and willing to be cold in their own homes. But the same window film that kept them cooler in the summer can now keep them warmer in the winter, by blocking heat loss through the glass. And if the heat stays inside, your thermostat will register that heat and the furnace will have to pump out less of it, saving you big time.
You will be more comfortable in your home with energy efficiency residential window film, Kansas City. Your initial investment will pay for itself with energy savings in a few short years. And your window film will not require any maintenance or adjustment, it will just keep working to save you money, year after year.
For more information about residential window film, Kansas City or any of the surrounding and adjacent suburbs and towns, please give us a call today. We are always happy to answer any questions about our full line of window films, including security film, privacy film, decorative film, and many others. And we are always happy to offer a quote for a window film job as well.