Let's say you have a lovely restaurant in downtown Kansas City, on a terrific block with a lot of foot traffic. Let's say your eatery has a large plate glass window in the front, facing the street. Did you know that window could be used to offer your diners more privacy and give you a fantastic way of advertising your establishment? With restaurant window film, Kansas City restauranteurs can put any message or logo in the window.
For instance, you might be open for lunch now, when you never were before, and you want to let your customers know. Or you might have decided to stay open late Friday or Saturday nights. Or perhaps you have recently implemented a brand new Happy Hour menu. If you'd like to advertise this message in the window of your restaurant, Window Film Kansas City can help.
Our decorative restaurant window films for Kansas City are customizable. All you have to do is send us a digital file of the message you want, or the artwork you want included, and we'll take it from there. We customize a window film that has the look of frosted, etched glass, and install it to your front window. Voila! Within moments, every passerby either on foot or in a vehicle can see that you are now: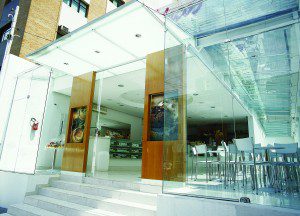 Under new management.
Pleased to announce the addition of your well-known new pastry chef.
Have brought in a full selection of gourmet wines and liquors.
Are serving a brand new tasting menu.
Have a fantastic array of new lunch specials for fantastic prices.
Or any other message you'd like to have in your window.
Restaurant window film, Kansas City savvy restaurateurs know, is much classier than the old school paper sign written with a sharpie. It will present a high-class, eye catching message that should bring you foot traffic and buzz on the street.
With the customized restaurant window film in place, you will also have added a bit more privacy for your diners, which they just might love.
By the way, we have other types of restaurant window film Kansas City eateries are finding useful. We have a security window film that will keep your window from shattering all over the street if someone attempts to smash it. We have an energy saving window film that might save you money on your heating and cooling costs.
Why let that big plate glass window go to waste? Make good use of it with customized window film. For the high quality restaurant window film, Kansas City or any surrounding cities and towns, please contact Kansas City Window Film today for more information or a quote for a custom window film project.