When it comes to indoor window tinting, Kansas City residents are not yet familiar with all the great applications of this product. Of course, these days pretty much everyone is familiar with window tinting in vehicles. The "stretch" limo with the dark windows are one example of window tinting.
And the energy-saving kind of window tinting that can help lower heating and cooling bills is another product that is gaining in popularity and public recognition.
But what about indoor window tinting, Kansas City? Are you familiar with it? Actually, we bet that you are. We suspect you've seen it many times but never realized what you were looking at. This product is decorative in nature, and can add style, class, uniqueness, and even more privacy to any glass pane, whether it is a window or a glass partition or a glass door.
Have you ever walked into the lobby of a big office building and noticed the businesses on the ground floor? Frequently, they have large clear glass doors, or even walls, making the space feel more open and allowing the light to enter. And just as frequently, these glass walls and doors might look like they are made from some kind of patterned glass, colored glass, or even expensive and classy etched or frosted glass. What you are seeing is indoor window tinting Kansas City businesses have had installed for privacy.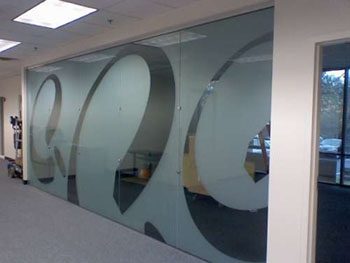 Have you ever walked down the hallway of an office building, looking for a specific office. The doors were plain glass, but they each had a film or design or logo giving them a bit more private appearance, yet still letting in the light? This is another example of an application for decorative window films, which can be custom made with a business' logo or name.
What about home applications of decorative window film? Indoor window tinting, Kansas City homeowners are discovering, is an inexpensive way of adding some great style and adding privacy too. Some of our clients have these window films installed in their entryway, to give it a bit more pizazz. Did you know that there are window films that mimic the appearance of stained glass? Imagine that in your home's sidelights next to the front door.
Or what about your glass shower enclosure? Adding decorative window tints there can also add much needed privacy and a design and style upgrade at the same time.
If you are interested in finding out more about indoor window tinting, Kansas City and the surrounding areas, we'd love to show you all the great patterns and designs that are available and the various applications they are perfect for. Why not give us a call today at Window Film Kansas City?